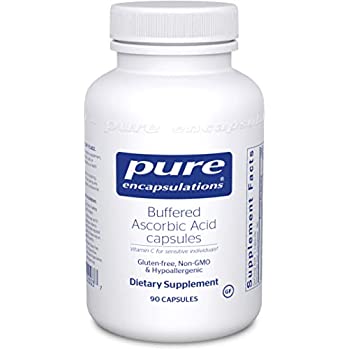 Buffered Ascorbic Acid
$25.00
Vitamin C as mineral ascorbates for sensitive individuals. Buffered ascorbic acid combines calcium ascorbate, magnesium ascorbate, and potassium ascorbate to create a neutral pH vitamin C. This special form of ascorbic acid lessens possible gastric irritation in sensitive individuals.
Each vegetarian capsule contains:
Vitamin C (as calcium ascorbate, magnesium ascorbate and potassium ascorbate) 670 mg
Calcium (calcium ascorbate) 20 mg
Magnesium (magnesium ascorbate) 37 mg
Potassium (potassium ascorbate) 15 mg
Other ingredients: vegetarian capsule (cellulose, water), ascorbyl palmitate
Suggested use: 1 capsule, 1-4 times daily, with or between meals, or as directed by a health professional.
*These statements have not been evaluated by the Food and Drug Administration. This product is not intended to diagnose, treat, cure, or prevent any disease.